Alotta Money is an NFT Artist from France. When he creates new art, he feels total excitement. When he thinks he got the right idea, Alotta cannot stop smiling and as he told us in the interview, his adrenaline pumping. This excitement and keep him awake for two days or at least until he started and made himself sure it was possible and looking promising.
---
NFT Granny: "Dear Alotta, thank you for taking your precious time. Your art is extraordinary! But how did you come up with the name Alotta Money? I like it a lot, by the way."
Alotta Money: When I started looking into Bitcoin, I had to read many things, look into the History of money, what it was supposed to be and was not anymore etc.
I soon understood I had to join Twitter, where all the actors were. When I created the account, my head was filled with info about money etc. That is why I picked a name expressing the money tornado I was in.
---
How did you first become interested in art, and how did you get started with it yourself?
Alotta Money: I have always been drawing and creating as far as I can remember. My first digital arts were on Commodore64 when I was 11. Later I worked as an illustrator, motion designer. I ended up being an art director before going, full artist. I always had my own personal art projects.
Can you tell us more about the story behind your project "Craig is alright"?
Alotta Money: It was one of the numerous memes I was posting on Crypto Twitter when I came into the space.
My way of participating in the surrounding madness I was discovering.
Which of your artworks are you most proud of?
Alotta Money: First would be my collaboration with JiVinci, Saint Nakamoto. That is where it all started.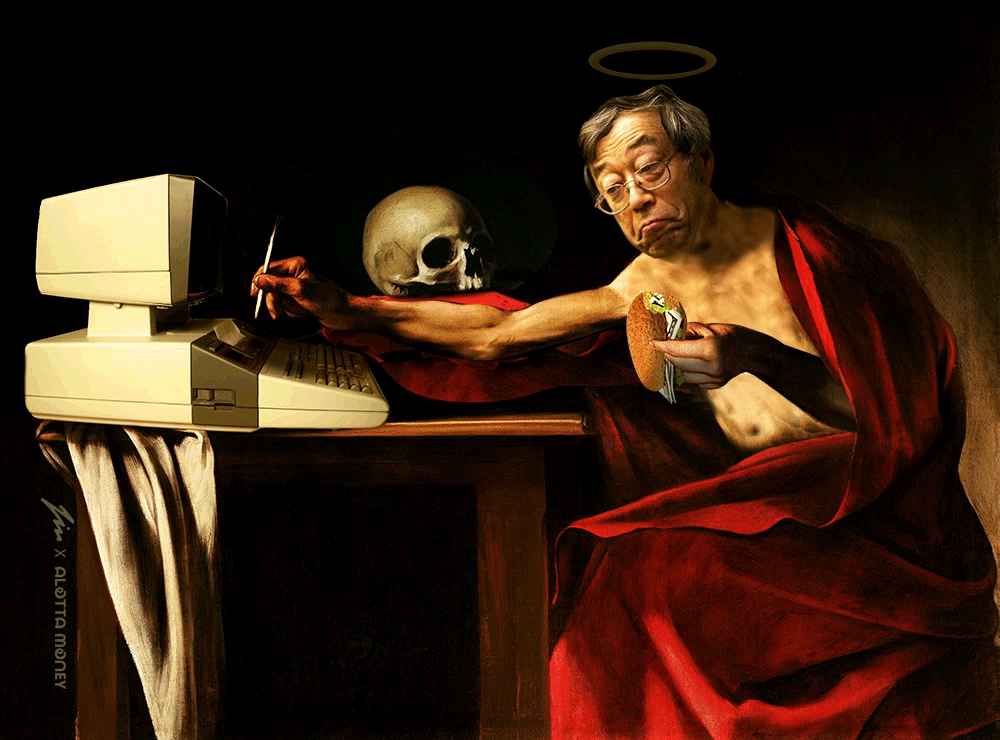 The second would be EthGirl with Trevor Jones. For the first time, I connected to the world of painting and cubism.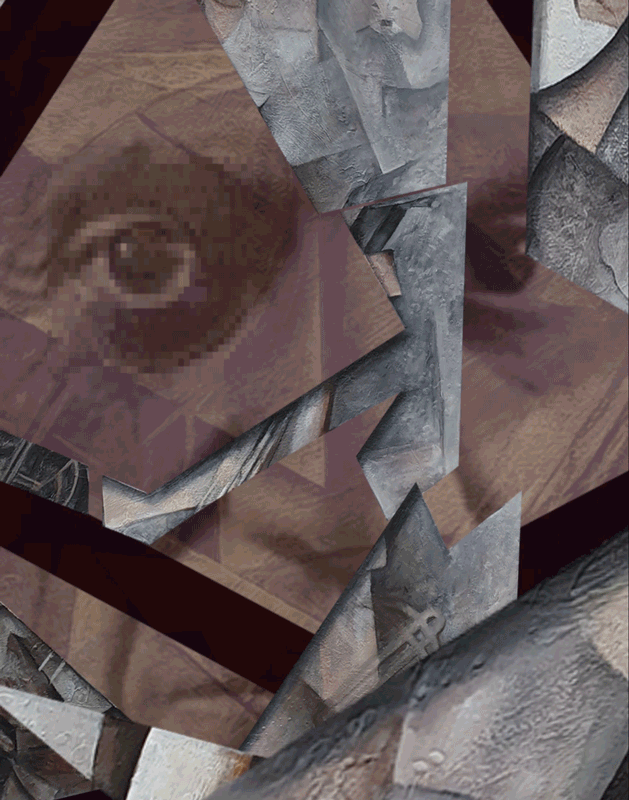 The third is The First Supper. People don't realise yet how programmable art is revolutionary and how crucial is this first collaboration piece.
So far that were collaborations only. If I had to pick one of mine, it would be "The Dictatorship", a work that will never be totally done as I can modify it anytime with a large number of hidden layers and settings to play with.
Is there an artist you would like to work with? Like a collaboration?
Alotta Money: It's more about having an idea. First, I would love to collaborate with friends like Coldie or Xcopy, but I'm still waiting for the right idea to knock at their doors.
In a dream world, I'd love to collaborate with Terry Gilliam.
We are curious 🙂 Would you be willing to share any plans of upcoming projects?
Alotta Money: I can't say much about the biggest projects. I'm working on the portrait of a legend for the second time because he did not like what I did first. Oh well, I could not imagine saying no to him anyway, and you'll understand why if I ever satisfy him!
Other than that, I want to create Metaverse avatars, and I'm going full 3D till I know what I'm doing.
Who or what are your biggest influences or sources of inspiration?
Alotta Money: I'm a movie fanatic, a video game player, a sci-fi fan (K Dick) and this geek world I've been bathing in for decades is certainly influencing me more than I think.
And also, the NFT scene keeps on exciting me and giving me ideas, all the art popping on my Twitter feed, I've never been exposed to so much creativity in my life, and it's a blessing to have so many artists around me
Is there something specific you are trying to express with your art?
Alotta Money: Our world is shit, and we'd better have a good laugh could resume it all. I try to make art I'd buy, hang it on my walls and keep smiling when I look at it. I'm on a mission to take you to silly places, drop some silly seeds in your pockets and hope you'll water them.
What do you feel when you are creating new art?
Alotta Money: Total excitement, when I think I got the right idea, I cannot stop, smiling face, adrenaline pumping and all… Can keep me awake for two days or at least until I started and made myself sure it was possible and looking promising.
Do you remember the first time you heard about NFT Art?
Alotta Money: Yes, I just finished building my first gallery in cryptovoxels to expose my Twitter headers end of 2018.
There was an exposition of NFTs on the block next to mine. And I was asked to build the place.
How do you enjoy the NFT Art you have collected? Do you have a way to display it, for example, at home?
Alotta Money: Not yet. I don't have much room where I live, and there is already art all over the walls.
I'll make sure to have as many screens as I can when I move, that's for sure.
Right now, I just browse the collection quite often.
What would be your biggest wish for the NFT Art scene?
Alotta Money: To have more art-loving collectors involved, people buy things that make them feel something more than just greed and gambling. There have always been many of them, and I'm honoured when I'm part of their collections.
Artists need fans to feel warm inside their little bodies, not just alotta money™.
What is currently missing / not fully developed to reach full potential out of it?
Alotta Money: I'd love to see more interactions between collectors and art. I'd like the collector to have, if he feels like, some creative part on what he collects, making the piece change when changing hands.
We would really like to know where you see the NFT Art scene in the future?
Alotta Money: I think all art will be on the blockchain soon enough. There's too much benefit for artists, galleries, collectors around the world. Physical art will – of course – still exist but will be connected in a way or another to the blockchain.
Which tools do you use to create your art?
Alotta Money: Mostly Photoshop and After Effects, but I have a big collection of software I'm using for just one thing or another.
What does a typical day for you look like, and what do you like to do when you're not busy with NFT Art?
Alotta Money: I wake up at 10 am and start to stare at screens till 4 am. Whether it's shitposting, playing games, watching movies or making art. I also have a pretty active dog that is walking me 3 hours a day IRL.
What's the best piece of advice you've been given?
Alotta Money: Hackatao gave me a good one back in circa 2019: "Don't sign your NFTs with your watermark / name."
Is there something aside from art or NFTs you collect?
Alotta Money: Quality Collectors.
What do you feel the moment a project you've created dropped?
Alotta Money: Happy and insecure.
Please describe your idea of a perfect world in max. 5 sentences
Alotta Money: A world where people realise we're all one could be sweet.
Where do you like to travel?
Alotta Money: I love big cities, buildings, architecture, and I still have to visit so many of them.
My favourite place is Amsterdam, I worked there years ago and visit at least once a year. For museums.
Full Name: Alotta Money
Date of Birth: 5th March 1972
Current hometown: France
Languages she speaks: French, English
What did you want to be when you were a child: Comic artist
Education: I was drawing instead of learning things, ended up in a cooking school because I was too unruly for art schools.
First Job: Cook at age of 16
---